When Brandy became a Teaching Parent for Closer to Home at the young age of 24, she had no idea what she was getting herself into. She had previously worked in community-based programs for adults with developmental disabilities, but the job of a Teaching Parent is quite unique.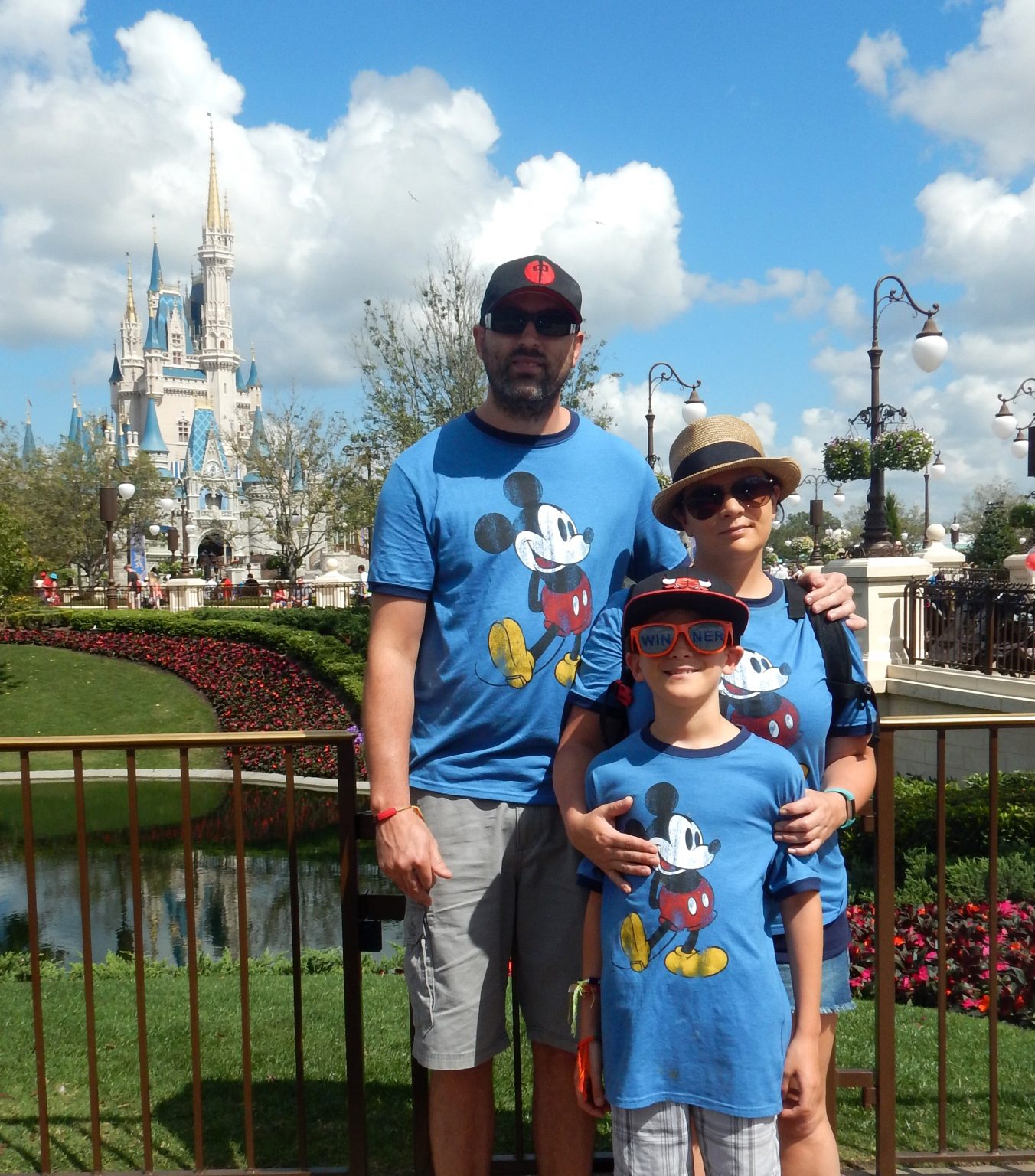 Brandy and her family at Disneyland.
Teaching Parents live in Closer to Home's Community Teaching Homes, providing intensive treatment in a family home environment for up to six youth who have been separated from their families and referred to the agency by Children's Services. Teaching Parents act as 'parents' for the youth, modeling the skills needed to be part of a healthy family and assisting in their daily routines and activities, while also implementing skills-based teaching and managing crisis.
Brandy and her husband, Scott, were Teaching Parents for almost six years, impacting the lives of approximately 60 youth who lived with them during that time. To this day, they still keep in touch with many of them.
"I worked with kids who are now 25, who still come over to my house all the time," Brandy says. "There's a boy who lived in the Airdrie Teaching Home who still calls my husband every single day."
Brandy says it's great when youth keep in touch after leaving the homes, whether it's to reach out for help or simply to grab a coffee. She points out that many youth have difficulty accessing supports to help them move onto independent living when they turn 18.
"It's hard for them," she says. "Some of them are too high-functioning to get those supports, so they're kind of left on their own, even if they grew up in group care."
Eventually, Scott moved on to other opportunities, but Brandy has remained with the agency for many years since. After leaving her role as a Teaching Parent, she completed a fund development practicum where she raised money for Pekewe House, Closer to Home's facility for cultural workshops, Indigenous ceremonies and programs. Then, she became a Foster Care Coordinator, working with Foster Parents in the hopes of reuniting families, whenever possible. Today, she manages all of Closer to Home's Airdrie programming, including the Airdrie Teaching Home, the in-home family support program Family Matters, and the new youth mental health program, Viewpoints.
As a Manager, the biggest part of her role is teaching others how to grow and develop and do the best job possible.
"As a management team and, really, as an agency, we focus so much on professionally developing people in a really purposeful way," she says, noting that the agency is always looking at new research and new ways to teach and develop its staff. "The investment that we put into people is very different from anywhere else that I know of."
Thinking about how she measures her own success, Brandy points to the success of her staff.
"That's how I feel  I'm being successful, when I can see progress and change in the Coordinators and Practitioners," she says. "When they're able to deliver services for families and children that affect change, feel respectful, and empower families to stay together."
Still, Brandy isn't removed from the day-to-day activities of the agency's Practitioners. All of Closer to Home's Managers take an active role in working with kids and families, spending time in the Teaching Homes and building relationships with the youth.
"We really are entrenched in it," Brandy says, "so we can make treatment decisions that feel  collaborative and relevant."
"We don't get into this field to do paperwork or manage other people," she continues. "That's not really what social work is. I don't think you can do this job if you are not getting to see the impact and build relationships with people."
Starting with the agency at just 24-years-old had a big impact on Brandy herself. She and her husband learned how to be parents long before they had their son, learning how to communicate appropriately and share parenting roles.
"I grew up here," Brandy says. "I raised my family here. Closer to Home is an agency that feels like family."
When Brandy had to pull her son out of school twice a week for a year to get him the help he needed for his learning disability, she felt supported by the agency. She was able to have a flexible schedule that allowed her to focus on supporting her own family.
"I think people really genuinely care about other people here," she says. "We don't just support families in the community, we support each other too. The flexibility is really different from any other agency I've ever heard about."
In thinking about her future, it's hard for Brandy to imagine not working with kids.
"If I didn't work at Closer to Home or in an office setting, I would most likely be fostering," she says. "That's most likely what I will do when I retire. When I decide to step back from my career, I am going to foster again."
Learn more about Closer to Home's continuum of programs that support kids and families, including our Teaching Homes, Family Matters, Viewpoints and Foster Care, here.