Our Vision
Every child thriving within supportive family and community relationships.
Our Mission
Closer to Home Community Services facilitates growth and belonging in communities of meaningful relationships. Our integrity is grounded in evidence-based practice authentically informed by, and connected to, diverse cultural wisdom. We journey with children and families to uncover strength, hope and healing, creating new possibilities for a brighter future.
Our Work
Through the use of evidence-based practices and innovative solutions, Closer to Home strives to preserve, reunify and build stronger families who can care for their children and contribute meaningfully in their community.
Our family-centred, strength-based services ensure that children have stable, healthy and safe living environments in which to grow and develop. And in some cases, when families are separated, we provide a place for children and youth to call home while offering therapeutic support with the ultimate goal of family reunification.
Closer to Home is committed to addressing the Truth and Reconciliation Commission's Calls to Action.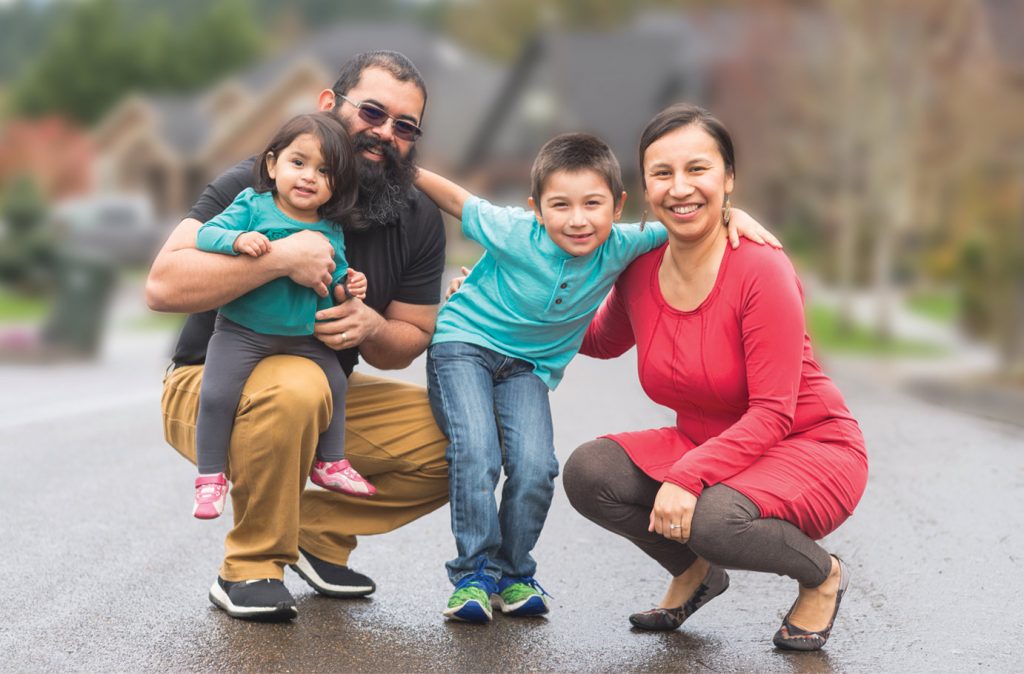 Our Principles
We take pride in having established a culture that is built upon a unified set of principles:
Respect for Diversity
Practices that accept and promote individual cultures, traditions, spiritual beliefs and lifestyles. Services that are aware of the complexity of social issues related to the historical trauma experienced by Indigenous communities and promote ethical spaces within the organization that respect Indigenous values and worldview related to health, healing, and cultural connections.
Individualized Approaches
Interventions developed to preserve the family, in partnership with the child and family, are strength-based, inclusive, and solution focused.
Effective Services
Integrated quality assurance systems provide the necessary feedback to improve services and facilitate continuous quality improvement that results in better outcomes for children and families.
Outcome-Focused Programs
Meaningful outcomes are identified, measured, and achieved with integrity, excellence, and accountability. The CTH Evaluation and Outcome Framework provides an internal roadmap to better identify salient outcome indicators, reliable measurement tools and clear feedback loops to ensure outcome information is utilized to continuously improve services.
Trauma-Informed Approaches
Interactions with children and families are respectful, dignifying and positive. Interventions are trauma-informed and focused on family preservation and reunification. Children are safe, their voices are heard and valued, and their choices respected.
Client and Stakeholder Satisfaction
Services solicit the opinion of all participants and stakeholders in a systematic manner, and are responsive to identified needs and concerns.
Collaborative and Inclusive
CTH participates in partnerships that offer benefit to and increases the social impact of services offered for children, families and communities.
Our Strategic Directions
The Board of Directors and Leadership Team have adopted the following priorities as the framework in guiding the organizational strategy for Closer to Home:
Enhance our social impact through program and service excellence.
Actively seek, explore and act on opportunities to strengthen our organizational agility and sustainability.
Amplify Closer to Home's work and reputation to increase community support, philanthropic giving and government funding.
Frequently Asked Questions
Closer to Home Community Services (CTH) is a charitable organization located in Calgary, AB since 1995. CTH provides wide range of services designed to meet the unique needs of children, youth and families. Through the use of evidence-based practices and innovative solutions, CTH strives to preserve, reunify and build stronger families who can care for their children and contribute meaningfully in their community.
We believe every child deserves to feel loved and have a safe place to call home. Children, youth and families come to us for a variety of reasons. Sometimes parents are struggling to care for a child with a mental, physical, or emotional disability, or a child who has made choices that have led to an unhealthy lifestyle. Sometimes, parents face these issues themselves.
At Closer to Home, we know that being part of a resilient family is the foundation for a child's health, safety and success. By building stronger families, Closer to Home reduces the strain on more costly social supports, and increases family independence and resourcefulness.
Closer to Home offers a wide range of services to support children and families. Located in Calgary, Airdrie and Canmore, we offer:
Community-based Solutions and Resources: Our North Central Family Resource Network offers information and referrals for individualized supports, programs and resource access for prevention and early intervention for children, youth and families. 
Family-based Support and Resources and Housing and Homelessness Solutions: In-Home Family Support programs are designed to assist families in recovering from crisis to preserve the family unit and build new positive skills for the future. These include CTH's Indigenous-focused programs, Family Matters, Home Again, Staying Home and Home Visitation.
Alternative Caregiver Settings: CTH's In-Care programs are community residence-based care and treatments specifically designed to care for and bring resolution to children and their families after experiencing severe challenges when a family's situation has grown dangerous or beyond their ability to manage and social services are involved.
All of these services are free. However, some programs can only be accessed through a community referral. Please contact Closer to Home for information about program referrals at (403) 543-0550.
Using the Teaching-Family Model (an evidence-based, family-centred approach to the treatment of children, youth and families), Closer to Home is recognized as a leader amongst service providers in Calgary and throughout Canada.
As part of our Agency Development Services, Closer to Home consults internationally on the development and dissemination of the Teaching-Family Model in other organizations. Our goal is to see the Teaching-Family Model used more often throughout Canada and the world.
Closer to Home has developed a sophisticated Evaluation and Outcome Framework to establish clear, measurable goals that ensure all of our programs meet the National Child Welfare Outcomes Indicators Matrix (NOM). Closer to Home is committed to providing evidence-based, quality services for children and families.
For more information please see our Report to the Community publications.
Closer to Home receives its core funding through the support of Calgary and Area Child and Family Services and the City of Calgary's Family and Community Support Services. We also receive some funding from the United Way of Calgary for Indigenous programs as well as Airdrie Family and Community Support Services for youth mental health programming. In addition, Closer to Home solicits and receives fundraising revenue from various government, foundation, individual, community and corporate funders.
We are grateful for our many donors who enable us to provide ongoing support for children and families so they can create new possibilities and achieve better futures together.
Yes, Closer to Home's Charitable Registration number is 89823 5759 RR0001.
You can search for any registered charity's financial returns at the CRA site here.
Closer to Home is located at Suite 200, 1725 10 Ave SW, Calgary. Our North Central Family Resource Network is located at 3-176 Bedford Dr NE, Calgary. You can also call us at 403-543-0550.
Closer to Home Group Homes, Foster Homes, and Community Teaching Homes are operated throughout Calgary, Airdrie and surrounding areas.