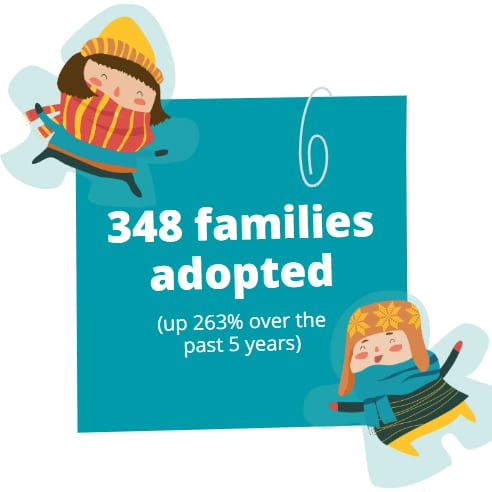 Thanks to your support, 1,511 people were given the chance to have a magical holiday season, free from the added stress of holiday expenses.
350 donors gave more than $247,214 in gifts and grocery gift cards to families who needed a little extra support this Christmas.
Your donations helped people like Cheryl*, a single mom supporting her 19-year-old son with complex needs. She is looking for a job that will allow her enough flexibility to continue caring for her son, and says being able to take care of their basic needs is the first step towards a better future.
You also helped families like Liv's*, who moved to Calgary to be close to the Children's Hospital, where their son is receiving lifesaving treatment. Their situation prevents Liv and her husband from working full-time, so this support made an indescribable difference for them.
Thank you for caring for and supporting your community!
* Names changed to protect privacy
Click here to see how you're helping kids and families!
180 volunteers contributed over 698 hours of their time during Adopt-a- Family, including these groups from TELUS, RBC and MTA!
Special thanks to our sponsors:
https://closertohome.com/wp-content/uploads/3D-logo-black_Lexus-of-Calgary-300×122.pnghttps://closertohome.com/wp-content/uploads/Canbriam_Logo_RGB_crop-300×98.png