Interrupting Domestic Conflict:
Calgary Herald Christmas Fund 2013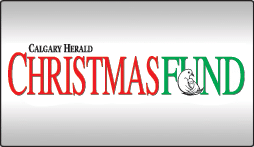 Back in late November, the Calgary Herald announced that Closer to Home was selected as one of its 2013 Christmas Fund recipients. In the following weeks leading up to Christmas, Closer to Home, along with 12 other local charities, was profiled in the newspaper and in stories told by the Calgary Herald's media partners, UP! 97.7FM and Global TV (click the links to hear our stories).
Over $1.2 million was raised through this year's campaign and was divided among the 12 charities in Calgary. In addition, a portion of this year's Christmas Fund was directed to the Calgary Foundation's flood relief efforts, which was new to the campaign this year.
Closer to Home's share of just over $95,000 was presented in the form of a life-size cheque at the closing reception at the Calgary Herald Building on January 28, 2014.  These funds will be directed towards the Domestic Conflict Response Team (DCRT) – a collaboration with Closer to Home, HomeFront, Calgary Police Service and Calgary and Area Child and Family Services. The project is designed to reduce the recurrence of domestic violence by supporting families and providing them with the tools to successfully end the cycle of abuse and violence in their lives. To learn more about the project, visit the HomeFront website at homefrontcalgary.com/main/domestic-conflict-response-team.
As Jody Hoogwerf, Program Manager said to a Herald employee on the day of the closing reception, "This cheque represents the interruption of over 100 instances of domestic conflict this coming year in Calgary."
Closer to Home would like to thank the Calgary Herald and its partners for the opportunity to be chosen as one of the recipients of the Christmas Fund in 2013.  And, we would like to especially thank the Calgary Herald employees and the citizens of Calgary for their tremendous support of Closer to Home throughout this campaign.
We can help. 
If you or someone you know is experiencing domestic conflict, please

call 911

or contact any of the following:
HomeFront

Awo Taan Healing Lodge

Calgary Women's Emergency Shelter

Discovery House Family Violence Prevention

Peer Support Services for Abused Women

Youville Women's Residence