Corporations help make-over teaching family home through Days of Caring Project

By Milica Jankovic
Imagine coming home to find your bedroom completely re-done, walls gleaming in your favourite colours and accented by decorations showcasing your hobbies and interests. Think how it would feel to see the freshly installed light fixtures, new bedding, perhaps a new poster or a painting, and even a new fire pit and benches in the back yard.  Now, imagine what it would feel like to see this kind of transformation at a time in your life when you were living away from your family and felt like no one else cared.
"I love the headphones poster in my room. I like my new desk and my bed," comments Joseph*, 12, on the changes that were made to his room at the Closer to Home teaching home where he lives. The room re-do was a surprise.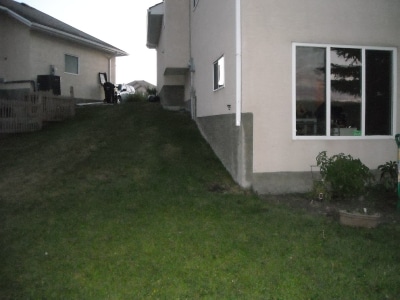 Back Yard – Before Renovations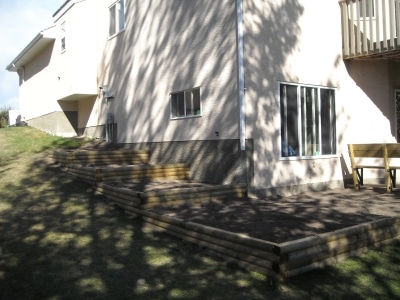 Back Yard – After Renovations
For a home with multiple rooms, organizing that kind of a surprise takes planning, time, people and, of course, a budget. That is the mission of the United Way's Days of Caring. By volunteering people, time and resources, ExxonMobil/Imperial Oil provided an opportunity for its employees to take an active part in community engagement. The Project Coordinator for this event, a 14-year volunteer veteran, explains that "the success is gauged when the kids return from school."
"It brought a lot of colour to my bedroom," reflects Jennifer*, 16, while remembering the way her room used to look. Rima, a Business Analyst with Exxon, took the day off from work to complete the decorating for Jennifer's project room. Rima was given some information about Jennifer's likes and dislikes, as well as a budget before she went shopping. Each decorator had around $400 per room as a shopping allowance, which lead to thrifty shopping choices. Planning for this particular home started in July 2012, taking about 10-12 hours of shopping time per room.
On October 25th, hours before the final reveal, the Project Coordinator showed off her busy volunteers assembling furniture and sewing last minute curtains. "There are people in every room, doing all sorts of things," she said. Nancy*, the teaching parent whose home was getting the re-make, quietly observed the volunteer decorator crew.  "The kids are just going to be blown away."
And they were.
Through Days of Caring, the children currently living in one of Closer to Home's teaching homes got their personal space more personalized, increasing their sense of belonging and pride in their temporary home. This was all done by a group of ExxonMobil/Imperial Oil volunteers that really care.
Did you know?
Community-based teaching homes are for children who are brought into care and need a place to go. Teaching home programs provide individualized treatment with support services for each youth. Live-in Teaching Parents and other staff provide supports that help youth learn the skills necessary to:
Successfully return home

Move to another permanent placement




Live independently

Succeed in school

Develop positive relationships

Experience community involvement
*names have been changed