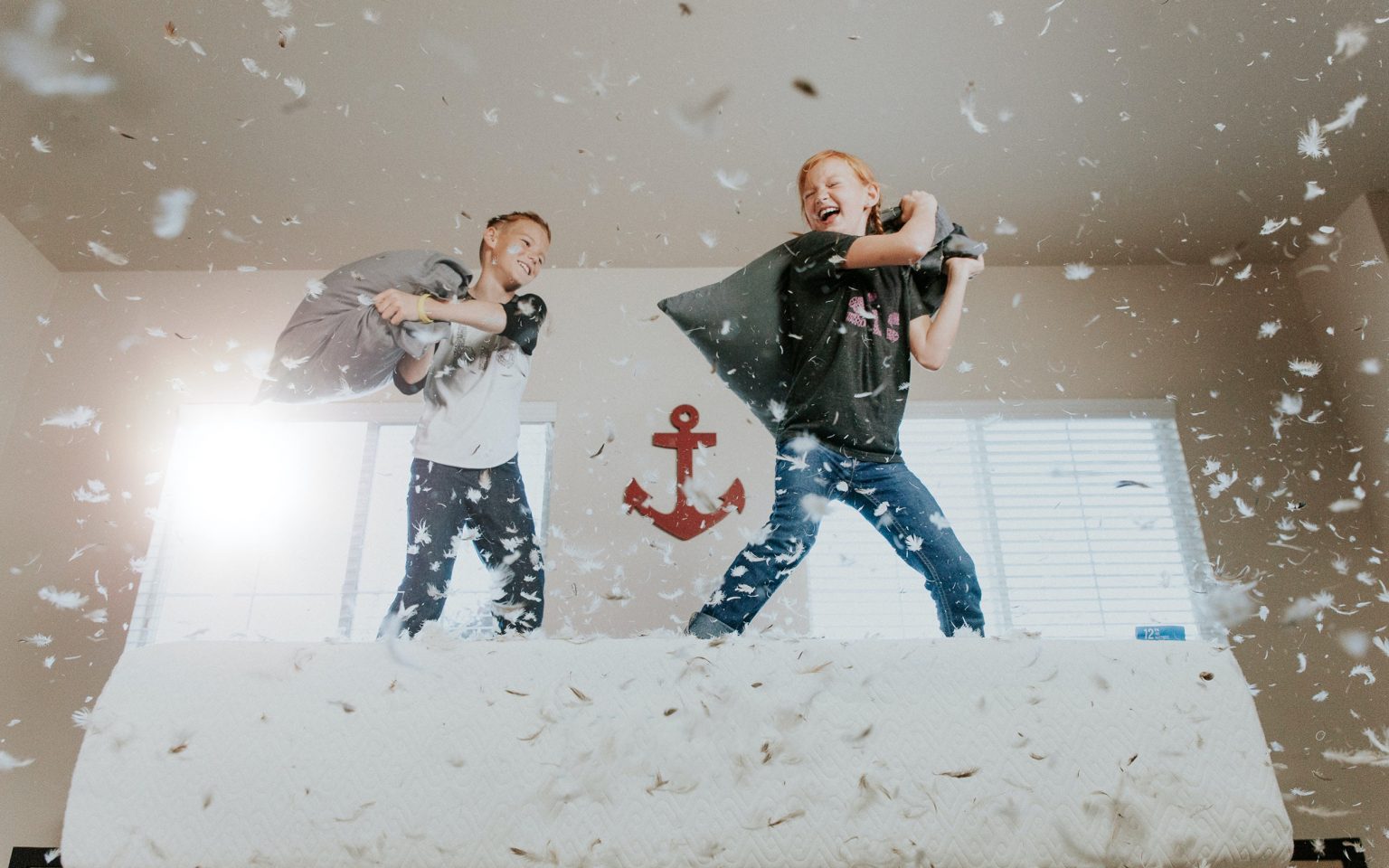 A few months ago, we couldn't have imagined how drastically our lives would change due to the COVID-19 pandemic. While families continue adjusting to their new "normal," many are struggling to manage the different needs and expectations of those in their household.
Families such as Twyla's*. A single mom in southwest Calgary, Twyla's 15-year-old son is getting restless after having spent weeks at home. He misses his friends, and while video chats help, the isolation is compounding his anxiety and depression. Twyla knows that staying home is helping to keep him physically safe, but she worries about the long-term impacts this situation will have on his mental health, and on their relationship as mother and son.
Twyla has been working with our staff to develop and implement some of the strategies listed below, and she's seeing improvements each day at home.
Tensions are heightened for many families – with and without children – and with that comes the potential for increased conflict in the home. You may be feeling extra sensitive right now, with emotions like confusion, frustration, anger or sadness. What starts as a simple annoyance can turn into a blow up.
And, even when stress isn't showing on the surface, it may be bubbling up just underneath. You may be having trouble sleeping, experiencing changes in appetite, or find yourself feeling more irritable than usual. This is all completely normal during times of intense stress and trauma. Whether we realize it or not, our brains are being triggered daily to tell us we are in danger.
So, how can you prevent stress from becoming unmanageable and causing conflict at home? Our Community Connections team have a few tips:
1. Educate yourself about the latest information regarding the pandemic, and share this information with your children in an age-appropriate way.
Seek out credible resources from provincial and federal health authorities (in Alberta, AHS is a great resource). Help your children understand the importance of staying physically distant from others in a way they can understand, using examples like going to the park or playing with friends.
2. Communicate effectively and without judgement. Sit down with your partner or family for an intentional discussion about each person's feelings and emotions about the situation.
Help your children identify and name their emotions. They may not understand why they are feeling angry or sad, and they need you to help them regulate their emotions. Then, problem-solve with your child to come up with some self-care techniques that can help them work through it. For kids, this often includes doing a puzzle, going for a walk, blowing bubbles, reading a book, practising a mindfulness exercise to acknowledge and let go of negative emotions, having a snack, listening to music, playing outside, cuddling with pets, or just moving their bodies.
It is important to keep in mind that all of these skills and techniques will vary based on age and developmental abilities. Often self-care can be something that your child is interested in or is passionate about.
Talk about what each family member needs in order to care for their physical, mental, emotional and spiritual health. You can come up with a self-care plan together for each of your family members by having them identify areas they need support with, take time to discover activities to address those areas and write them down. You can utilize a guide such as this one from the Mental Health Commission of Canada.
Some of these activities may include doing a guided meditation, writing in a journal, having a movie marathon, exercising, cooking their favorite meal, joining a support group, reading a book, starting a garden, alone time or space/time to process, open communication (without judgement), kindness/love, self-compassion and compassion for others.
3. Empathy goes a long way. It's important for parents to remember that the stress of this situation isn't just impacting them – their children feel it too.
Kids, especially teens, are very social and might be struggling to maintain a sense of connection with their friends and peers. Practice empathy and understanding to help them feel heard. Empower them with problem-solving skills that will help them overcome feelings of loneliness or isolation, while guiding them through the health guidelines to determine appropriate solutions.
Remember to show yourself some compassion, too. We are all doing our best, and our best is going to look different each and every day. Many of us are in fight, flight or freeze mode during this time, so don't be too hard on yourself.
4. Be intentional about family time. While you and your children may be struggling with a lack of connection with your friends and extended family members, this may be an opportunity to strengthen the bonds within your own home.
One mom who is working with our home visitors shared an example of how she got creative with engaging her children. She incorporated physical activities into their daily routine, such as daily walks with the family dog or just as a family, having a dance party with music, and playing with their family dog. She also encouraged her children to play together and express their creativity through activities like board games and arts and crafts. And, she made a point to turn daily chores into fun ways to spend time together, like making and eating dinner together, baking together, and setting up a weekly movie night.
These strategies helped the family decrease their stress around not being able to engage fully with others.
And, sometimes, you may need to schedule in some daily quiet time. When tensions are high and we are spending much more time with our families, it can be difficult. Taking a time out is completely okay.
5. And, when things begin feeling unmanageable, reach out for help.
This is an unprecedented situation in all of our lives, and it's okay if you don't have all the answers yourself. There are many resources throughout the city, including Closer to Home. Check out our Community Connections Facebook page here, where we are regularly sharing tips and strategies around mental health. And, please call us at (403) 543-0555 or reach out by email at familyresourcenetwork@closertohome.com.
It's important to be gentler with ourselves and each other during this time, with stress levels and emotions running high. Our brains are in survival mode, and we need to ensure we're taking care of ourselves before we can take care of others.
Stress and trauma are kind of like grief – there is no right way to do it. The best thing you can do during this time is to be kind to one another.
*name changed to protect privacy