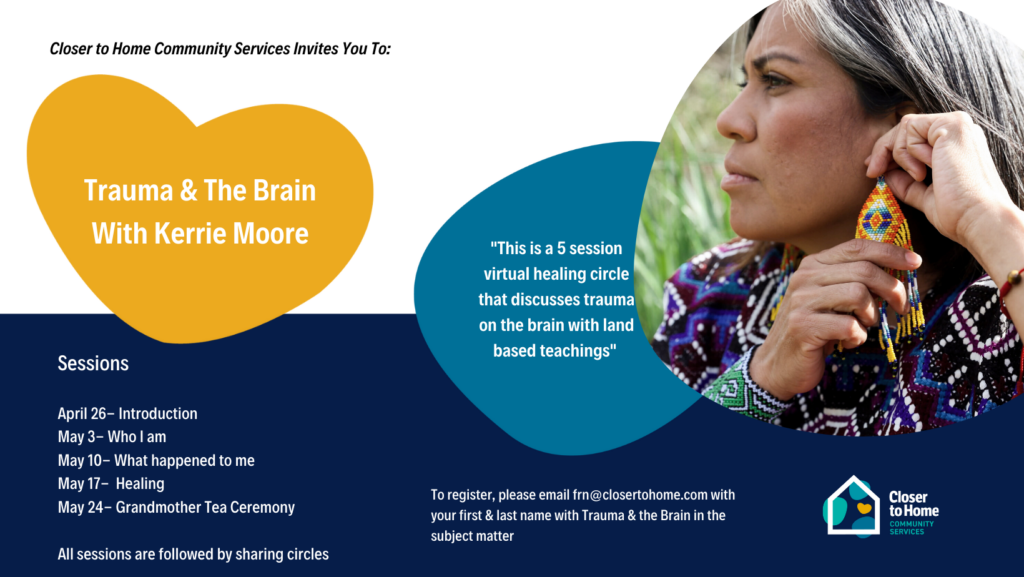 Kerrie is in Private Practice, specializes in trauma and grief, and has extensive experience and training in Post Traumatic Stress Disorder. Kerrie has worked for over 20 years as a consultant, educator and clinical practitioner in the fields of Justice, Child Welfare, Health Canada, Education, Veterans Affairs and Community Development. Kerrie is acknowledged and accepted as a Spiritual Advisor and Elder.
In this five-session Circle, Kerrie will be discussing Trauma and the Brain and will share some other land-based teachings. Please plan to attend all five sessions as they each build on one another – this Circle is not professional training. It is meant for those wanting to focus on their own learning, healing and growth.
This program runs on Tuesdays from 10 am-11:30 am starting April 26, 2022 with sharing circles held after the teachings from 1pm-2:30pm
To register complete the registration form below.
*All NCFRN programs are offered on an as-needed basis. Please view the program calendar to see which programs are currently running. Please contact us if you are interested in participating in a program that is not currently being offered.
Upcoming Sessions
No results – check back for upcoming sessions.